We apologise but Mozambeat Motel will be closed until further notice due to the Corona virus (Covid-19).
It is no longer possible to book online (only by mail).
Full refund until July 2020: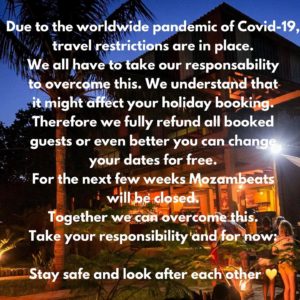 Urgent:
For all tourists who intend to visit Tofo, please stay home.
It will be unimaginable what will happen to this continent if we don't act now and be responsible. Please protect our locals, this is not the time to be selfish, this is the time to be considerate of everybody around you. Cancel (or better: postpone) your trip and you will get a full refund from us.
We look forward to welcome you at Mozambeats, when the time is right.
KANIMAMBO! THANK YOU!