Book your favourite room directly via our website
 Mozambeats will be closed for annual holidays from 4-20th of February 2020
Coming weekend:
Relive the moment of MozBeat Fest this weekend. Come and stay the long weekend in Tofo at Mozambeat Motel. Book your accommodation now for MozBeat Fest THE AFTERPARTY via our website www.mozambeatmotel.com/booknow and stay in any room of your choice for 2.500 mzn ($40) per room per night, incl. breakfast!
Use the code: THEAFTER2020
Valid from 30.01.2020 until 04.02.2020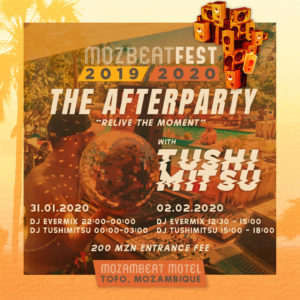 MozBeat Fest 2019-2020:
💥 We had a blast! All employees, volunteers, interns, managers, DJ's and of course clients, you made MozBeat Fest 2019-2020. We can't wait for next year. Happy 2020!