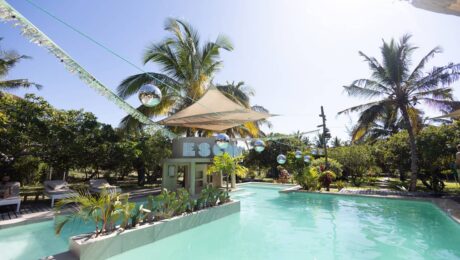 Why do so many travellers choose to stay at Mozambeat Motel?
Best place to stay in Tofo
Are you looking for the best place to stay in Tofo, Mozambique? We invite you to stay in our boutique sized hotel and experience for yourself our funky decor, relaxed ambiance and comfortable beds.
Eco-friendly travel
At Mozambeat Motel we have done all we can to help you minimise your footprint when you stay with us. We provide bamboo toothbrushes and refillable shampoo and conditioner bottles and discourage single use plastics throughout our property. Also, it is safe to drink the water here at Mozambeats, so you don't need to generate a constant stream of plastic bottles. You can also refill your drink bottle for the day's adventures from a dispenser in the bar area.
Great food
Many of our guests say that the food served in our restaurant is the best in Tofo. We pride ourselves in offering a range of delicious and healthy options from fresh coconuts, to grilled cauliflower and cous cous through to burgers, crayfish and matapa. Our kitchen staff are highly trained and make regular specials such as homemade ravioli with pumpkin filling and freshly made special sauce.
Clean and affordable accommodation
At Mozambeat Motel our dedicated team meticulously clean and maintain our spacious suites, sparkling swimming pool and lush gardens. We pride ourselves on offering a friendly and relaxed vibe to every one of our guests who stay in a range of accommodation styles from deluxe suites through to dormitory and camp grounds. For an authentic Mozambican experience you can look no further.
Read our reviews on TripAdvisor
Ready to dive in? Mozambeat Motel is very popular so
Book now to make sure you don't miss out.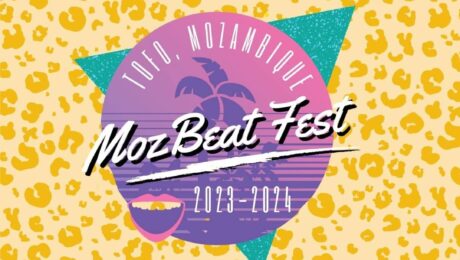 Countdown to A Week-Long Extravaganza at Mozambeat Motel in Tofo, Mozambique
MozBeat Fest in Tofo, Mozambique, is a celebration of music, culture, and the joy of starting 2024 in a tropical paradise. As the 12th edition of this epic annual event approaches the anticipation is building. Get ready for a week of non-stop beats, sunrise pool parties, and to experience the unique charm of Mozambique. If you're seeking sun, sand, and wicked beats in Tofo, Mozambique, MozBeat Fest is THE place to be.
The festival culminates in an epic pool party on New Year's Day, starting at the unconventional hour of 6am. Here's why this is a must-attend event.
The Ultimate New Year's Experience
MozBeat Fest has earned a reputation as one of the hottest New Year's celebrations, attracting music enthusiasts from around the globe. Set against the breathtaking backdrop of Tofo, Mozbeat Fest is an immersive experience that blends music, world travellers and local people with the vibrant spirit of Mozambique.
The Lineup
Showcasing local and international DJ's, MozBeat Fest is renowned catering to diverse musical tastes, ensuring every festival-goer finds their rhythm. From electronic and house to Afrobeat and hip-hop, this festival promises a sonic journey that transcends genres.
New Year's Day Sunrise Pool Party
Most importantly, you can start your New Year in style, dancing poolside surrounded by palm trees and lush gardens. Yes, you read it right – the festivities at MozBeat Fest's legendary Sunrise Pool Party continue at 6am on New Year's Day. This is an experience like no other and an energizing way to welcome the first sunrise of the year.
A Culinary Adventure
Meanwhile, to keep you fuelled up for the non-stop celebrations, MozBeat Fest provides a diverse array of culinary delights. Whether you're craving local Mozambican cuisine, international flavours, or a quick bite, the culinary options will be as eclectic as the music lineup. We aim for your taste buds to be as satisfied as your dancing feet will be.
Quirky Bars and Refreshing Cocktails
It goes without saying that hydration is vital to your wellbeing during a week-long festival. MozBeat Fest boasts various bars scattered throughout the festival grounds, including a cocktail bar ingeniously housed in a VW van. Sip on refreshing concoctions and unwind in style as you take in the vibrant atmosphere that surrounds you.
Now is the time
MozBeat Fest is just around the corner so therefore, it's time to start planning your journey to Tofo, Mozambique. Gather your friends, pack your dancing shoes, and get ready for a New Year's celebration of a lifetime.
MozBeat Fest, is now selling tickets for the 12th edition of this week-long musical extravaganza.
Don't miss out – book your tickets now, and prepare to welcome 2024 in the most unforgettable way possible!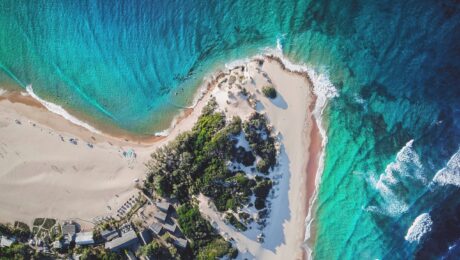 Nestled into the picturesque coastline of Mozambique is Tofo Beach, a hidden gem, just waiting for you to explore. Situated within this tropical paradise, Mozambeat Motel offers guests a unique and laid-back accommodation experience. This funky art hotel is the perfect launchpad from which to discover the wonders of Tofo. Here's a guide to some of the incredible activities and experiences that await you in this vibrant coastal town.
Surf Pristine Waves
Tofo is renowned for its consistent surfing conditions. Whether you're a seasoned surfer or a beginner looking to catch your first wave, Tofo's beaches offer a whole lot of fun. Local surf schools can provide lessons for beginners to get you up and riding waves Tofo-style in no time.
Dive Majestic Marine Life
Immerse yourself in crystal-clear Indian Ocean waters and discover the underwater wonderland at Tofo. The area boasts an abundance of marine life including turtles, dolphins and a diverse range of schooling fish that populate the abundant coral reefs. Tofo is also a hotspot for potential encounters with manta rays, whale sharks, and humpback whales that visit the local waters seasonally. We work together with Peri Peri Divers to offer excursions suitable for both experienced divers and beginners.
https://www.mozambeatmotel.com/stay-and-dive/
Explore Local Markets
Experience the vibrant culture of Tofo firsthand by exploring its local markets. From fresh seafood to handmade crafts, Tofo's markets are a sensory delight. Engage with local vendors, sample the flavors of Mozambique, and take home unique handcrafted souvenirs that capture the essence of the region.
Relax on Pristine Beaches
One of the best ways to experience Tofo is to unwinding on one of the beautiful clean beaches. Tofo offers miles of pristine sandy shores where you can bask in the sun, take a leisurely stroll, or enjoy a refreshing swim in the warm Indian Ocean. Several vendors at Tofo's main beach hire out waterside umbrellas and chairs if you feel like making a day of taking it easy.
Sample Local Cuisine
Indulge your taste buds in the culinary delights of local Mozambican cuisine. Tofo is dotted with beachside restaurants and eateries serving a great range of delicious seafood, traditional Mozambican fare, and international flavours. Mozambeat Motel's staff can recommend their favorite spots for an authentic dining experience like the local food buffet at Tofo Tofo restaurant on Tuesday nights. The atmosphere at Tofo Tofo on Tuesdays is boosted by epic live music and this usually attracts a great mix of locals and travellers.
Dance the Night Away
As the sun sets, Tofo transforms from a sleepy village into a night time fiesta. Mozambeat Motel occasionally hosts live music events and parties on Friday nights. These always offer a vibrant atmosphere for guests to mingle and dance the night away. Even if we are not putting on a party there is usually something happening somewhere in town, no matter which night of the week you want to head out on the town.
Tofo, Mozambique, is a destination that captivates an adventurous spirit and offers a diverse range of authentic experiences. Mozambeat Motel provides a comfortable and unique place to stay as well as local guidance about how to unlock the treasures of Tofo. Tofo has it all. From thrilling water activities to cultural exploration and tranquil beach retreats. Explore, experience, and make lifetime memories in our tropical paradise. To book now click here.